Heinrich Vogeler
Bremen 1872 - Karaganda/Kasachstan 1942


Heinrich Vogeler was born on 12. December 1872 in Bremen. Between 1890 and 1895 he studied at the academy of arts in Düsseldorf. Study trips took Vogeler among others to Belgium and Italy. In 1894 he joined the artist organization Worpswede and in 1895 he bought the "Barkenhoff".
Other trips took Vogeler to Dresden and Florence and he got to know Rainer Maria Rilke. In 1899 he was asked to cooperate on the "Insel". Besides from the occupation with the "Insel"-yearbook, Vogeler made craft objects and book illustrations. In 1901 he married Martha Schröder.
In 1905 he finished the decorating of the "Güldenkammer" [golden chamber] Bremen's townhall. Due to an eye complaint, the artist made a voyage to Ceylon in 1906. The intensive study of Maxim Gorki's reading matter on a trip to Lodz in 1907 got Vogeler to side passionately with the working class. His commitment to social reforming intensified, when he visited the slum areas of Glasgow and Manchester during a trip to England.
In 1908 Heinrich Vogeler founded the "Worpsweder Werkstätte" for furniture construction together with his brother Franz. Due to drastic drop in the interest of the public and ongoing marital problems, he planed to emigrate, but the begin of World War I. in 1914 induce Vogeler to sign up as wartime volunteer. In 1915 he was summoned to the eastern front.
He came into contact with the ideas of the Bolsheviks though his military instructions as an artist and his trips to Poland, Romania, Dobrudscha and Russia. When Vogeler addressed a written appeal for peace to the German Emperor, he was admitted to the lunatic asylum in Bremen for a short time, followed by the dismissal from military service.
After the November Revolution, Vogeler established the first German artist commune at the "Barkenhoff" and bequeathed his possessions after its failure to the "Rote Hilfe" as a rest home for the children of victims of political persecution.
Together with his second wife, Sonja Marchlewska, the artist got to know the Soviet Union in 1923, to which he emigrated in 1931. When the German troops drew nearer to Moscow in 1941, he and other emigrants were deported to Kasachstan, where he died in 1942.
In Heinrich Vogeler's works a change from one of the leading representatives of Art Nouveau with its precious painting culture and stylized idyllic to creator and propagandist of socialistic realism took place.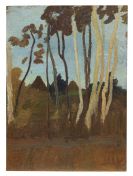 Paula Modersohn-Becker
Landschaft mit Birken, im Hintergrund zwei Hausgiebel
33,300 $
Details